The Garage Talks comprised of both invited guest speakers and internal speakers. Some talks are not recorded.
2023
Invited
Trends and Developments in Internet of Things - Richard Wenner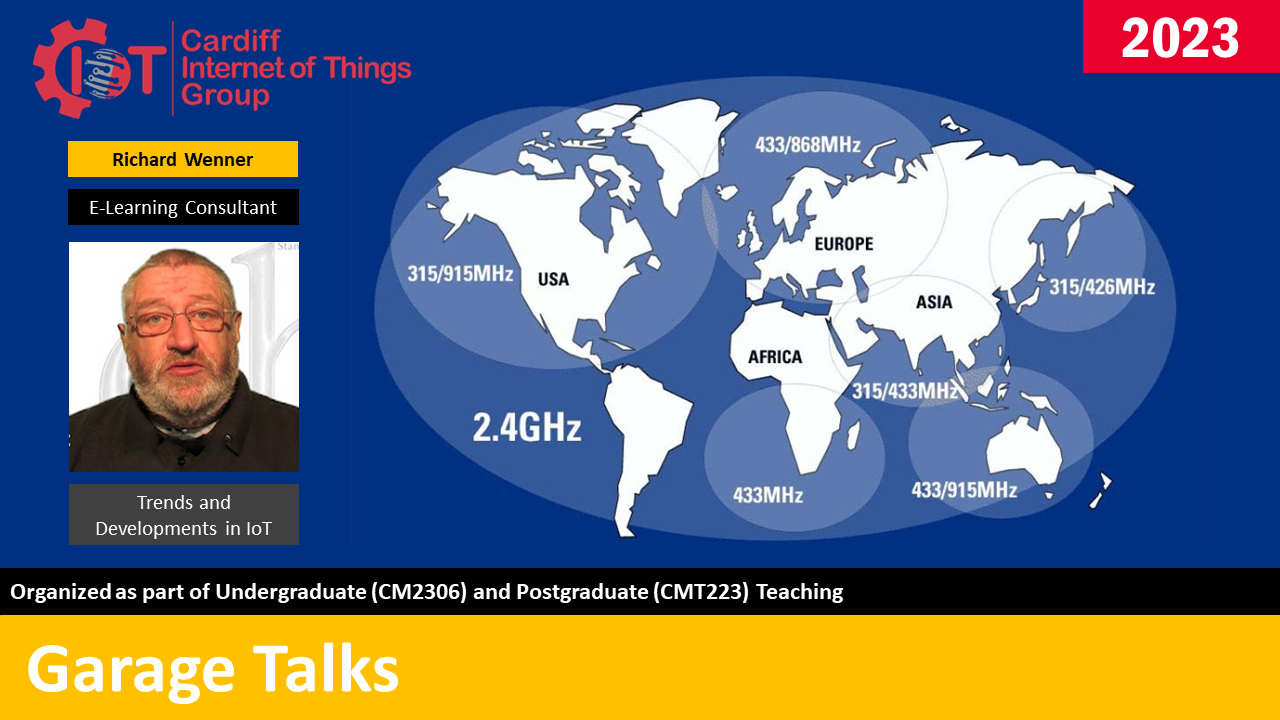 Abstract:
This seminar will introduce Lora technology and its wide range of applications in the context of smart cities.
Bio:
Richard Wenner is a Design Engineer who began his first company whilst still at University. This grew to supply innovative designs, in optical fibre communication, to many multi-national companies and the Ministry of Defence. He also produced network devices involved in the early internet and was the prime mover in the provision of a free, Open-Source, city-wide WiFi network covering Cardiff. Recent projects have included working with 'The Things Network''Telraam' and e-bikes.
Invited
Internet of Things in Cities: How to really make our Cities smart - Alex Gluhak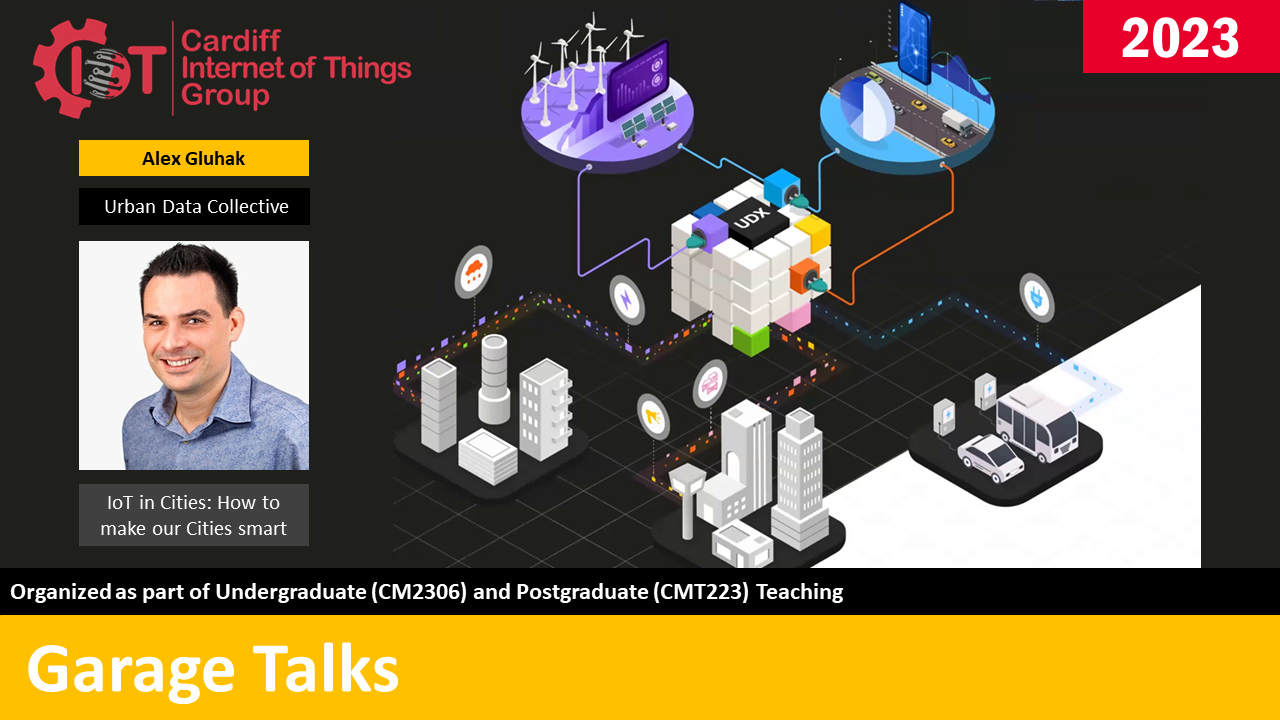 Abstract:
This seminar will introduce the data marketplaces and how they could play a critical role within the smart city ecosystems. Urban Data Collective provides solutions to facilitate the sharing of real time urban data. Our mission is to level the playing field and democratise access to urban data so people can use it to create a better world.
Bio:
With over 20 years' experience in smart city technologies, IoT and urban data solutions, Alex founded Urban Data Collective in 2020 following successful terms at Intel, Ericsson and Digital Catapult. Over the years, Alex has been involved in leading European smart city initiatives and has led technical work and eco-system development activities. He is a member of the Open and Agile Smart Cities' technical council and has a strong track record of expertise in the field.
Invited
Data Protection as a Career - Stephanie Beaumont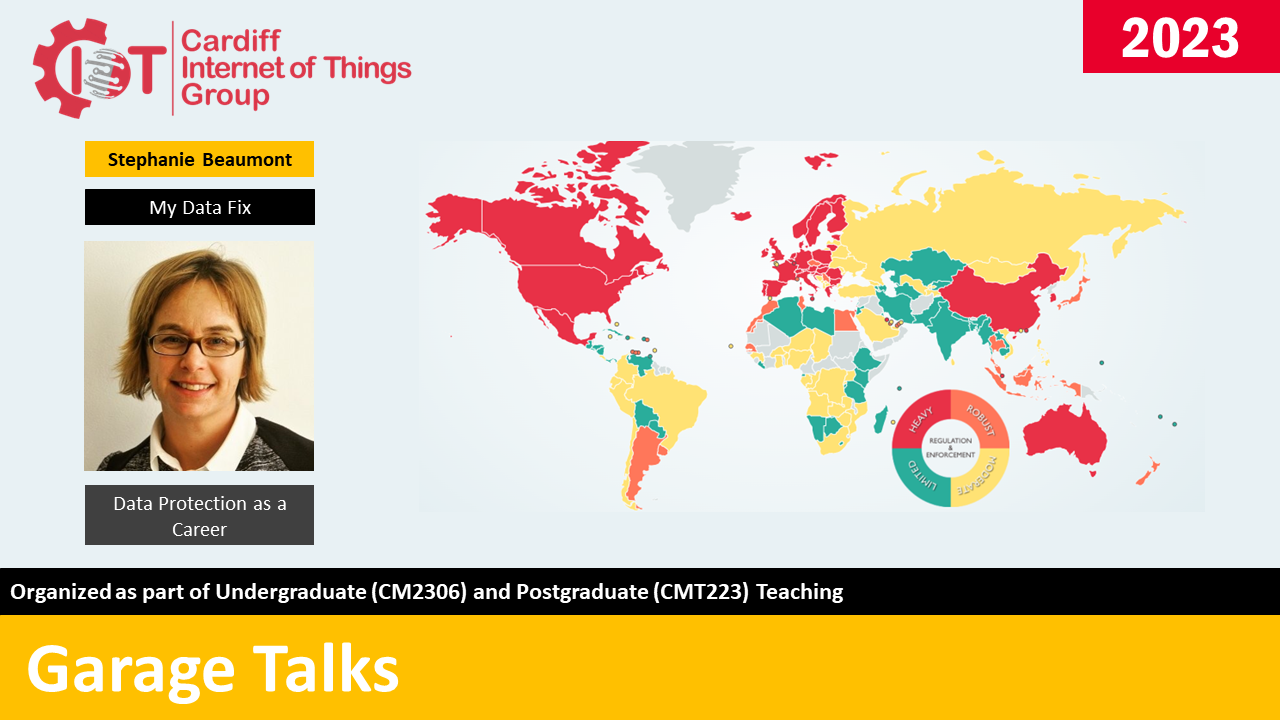 Abstract:
This seminar aims to bring data protection to life through real life examples and to share my passion of empowering everyone to make informed decisions about their own personal data.
Bio:
Experienced privacy and commercial lawyer combining extensive legal and DPO expertise gained from a broad variety of in-house and consultancy roles. Talented and confident communicator, skilled at supporting senior stakeholders dealing with governance and risk-based decisions. A keen interest in Privacy be Design has led to a collaboration with academics in computer science at Cardiff University, and the development of a prototype software tool. Most recent position was as Group DPO, EMEA at Willis Towers Watson managing the central privacy function and regional DPO network.
Invited
Big Data in Smart Cities - Behzad Heravi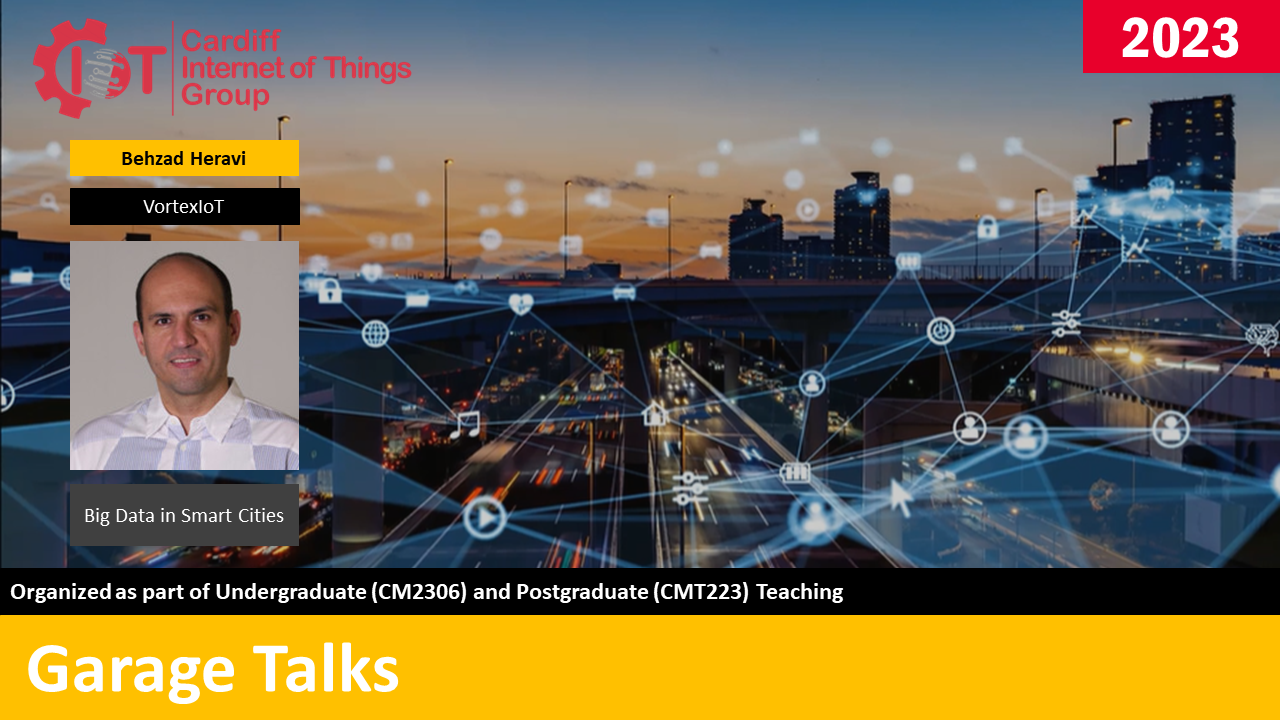 Abstract:
This seminar will introduce the the bid data in smart cities. It will introduce several key smart city sensing applications, solutions, challenges and lessons learnt.
Bio:
Behzad Heravi is the co-founder and Chief Technology Officer of Vortex, developing innovative Internet-of-Things (IoT) technologies for Smart Cities, Industry 4.0 and Smart Infrastructure. Behzad has a background in delivering Wireless Mesh Networks, Hyper-local Air Quality Monitoring, LiDAR Urban Scanning Systems and AI/5G-enabled technologies. Behzad has a PhD degree in Communication Systems from Lancaster University and is currently an honorary research fellow at Swansea University.
2020
Invited
Emergence of the Sentient Web and the revolutionary impact of Cognitive AI - Dave Raggett

Abstract:
This seminar will introduce the Sentient Web and Cognitive AI. This draws upon advances in the cognitive sciences to mimic what we've learned about the brain in terms of perception, cognition and action, and its mapping to Web architecture using a combination of REST APIs, graph databases, statistics, rules and graph algorithms. A number of demos will be presented along with ongoing work on natural language processing, and plans for scalable high performance cognitive databases.
Bio:
Dr Dave Raggett is a member of the W3C's European staff attached to ERCIM (the European Research Consortium for Informatics and Mathematics), and a visiting professor at the University of the West of England. He was closely involved with early work on web standards especially HTML and HTTP. He has been involved in many European projects, and currently focuses on the Web of Things and Cognitive AI. He was educated at the University of Oxford, followed by assignments at the University of Edinburgh, Imperial College and MIT, along with industry experience at HP, Canon, Openwave, Volantis and JustSystems.
Invited
Inbodied interaction and how the body works, inside: why should an engineer/designer care? - m.c. schraefel
Abstract:
The more i look into how we work as complex systems of systems, from our physiology, our neurology, to our three hundred thousand years of evolution, the more it seems we've done everything exactly wrong to be healthy and to thrive without poverty or disease. But now that we're here, what do we do about it? and especially what is the role for or field of interactive computational technology?
Bio:
m.c. schraefel holds the post professor of computer science and human performance. m.c. also leads the Wellthlab.ac.uk where our vision is: make normal better for all at scale and our challenge is how to do this through human systems interactions science engineering and design. In particular, we see this as a community/social design challenge targeted at revisions of fundamental infrastructure rather than focused on the individual (alone). If this sounds interesting, please work with us.